Disney Princesses Like You Haven't Seen Them Before
The Disney Princesses have been a fan favorite throughout time and have inspired plenty of photographers and artists to create amazing, funny and weird deviations. Let's have a look at some of the best ones (in no particular order)
1. Grumpy Cat Princesses
Imagine Grumpy Cat as a Disney princess - Ariel would have been totally unimpressed with the water she was forced to live in, and the poor princes would have had a hard time with the catty princesses. DeviantArt user TaoShin created this hilarious series featuring the princesses and some other famous Disney characters.
2. Dina Goldstein's Fallen Princesses
In Goldstein's photo series, the Disney Princesses don't live a happily ever after but experience all of the problems that come with real life. Rapunzel loses her hair during cancer treatment, Beauty goes through all extremes to maintain her looks, Jasmine lives in a war-torn country and Snow White faces the struggles of motherhood.
3. Disney Princesses As Indian Brides
An Indian Couture bridal gallery, Wellgroomed Designs, came up with an ethnic fusion of traditional Indian bridal wear and the Disney princesses. Jasmine Nijjar managed the project, in which they used themes from certain Disney movies. The results are quite astounding.
4. Disney Princesses As Vogue Cover Models
Dante Tyler envisioned his Disney princesses as Vogue cover models and created mock-ups for the fashion magazine, complete with witty headings. Jasmine becomes a "part of our world", Pocahontas is an "Icon of Love and Peace," while Snow White discusses her life after moving from seven men to only one. 
5. Disney Princesses In Real Life
Jirka Väätäinen created this stunning Photoshopped series of Disney princesses as realistic people. 
6. Disney Princesses As Tattoo Pin-Ups
Artist Tim Shumate recreated the Disney Princesses to look like old-fashioned  pin-up models, tattoos and all. He sells them on t-shirts, tote bags and a whole lot of other things, but they would also look great on your arm.
7. Disney Princesses as Pop Culture Characters
Isaiah Stephens created a remarkable series of deviations depicting the Disney Princesses as heroines from popular culture. Who would have thought of Rapunzel as Sailor Moon, Snow White as Wonder Woman, Ariel as Black Widow or Pocahontas as Katniss Everdeen?
8. Twisted Disney Princesses

Not everybody think of the Disney Princesses as sweet, innocent and friendly. It was only a matter of time for an artist to depict them in a more twisted way. Jeffrey Thomas did exactly that - gotta love the way he uses Cinderella's pumpkin. Snow White becomes an evil slave master with her minions and Ariel looks a lot more like Ursula than the starry-eyed mermaid we know.
9. Game of Thrones Princesses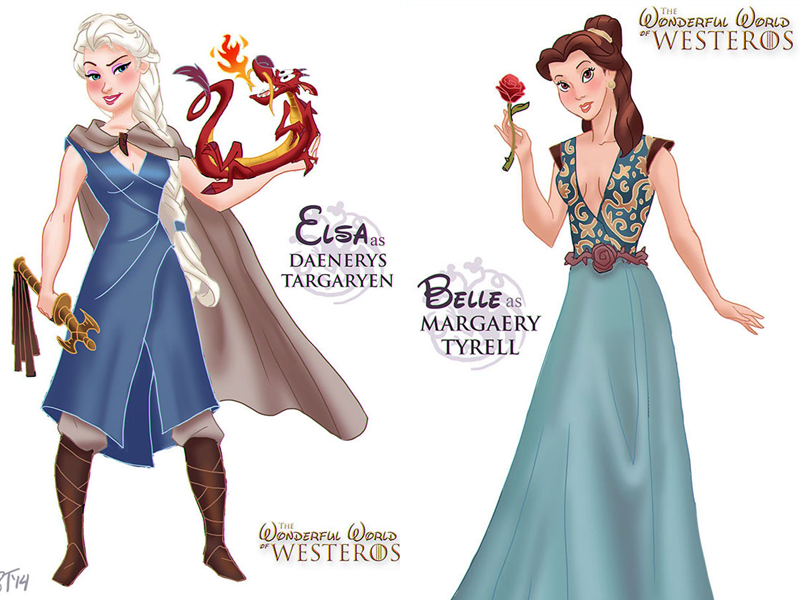 Although Game of Thrones doesn't often have happy endings, Djedjehuti felt inspired to create Disney Princesses for the Wonderful World of Westeros. Many of them actually share similarities with their Disney counterparts.
10. Hollywood Actresses as Disney Princesses
Graphic designer, Thomas Kurniawan shows us exactly what some of our favorite Hollywood actresses would look like as Disney Princesses with some excellent Photoshop work. Scarlet Johansson becomes Elsa from Frozen, Emma Stone is a delightful Anna, Alicia Keys is a beautiful Tiana and Tang Wei a stunning Mulan. He also explains exactly on his blog how he creates these compilations and which images he used for it.
What do you think, did we get it right? Comment here...
WANT MORE FUNNY LIKE THIS? FOLLOW US ON FACEBOOK